Giving back means giving of ourselves.
The idea of putting others first comes naturally to us, from our clients to our neighbours - it's the right thing to do. You'll find us giving back in countless ways, rolling up our sleeves and pitching in to support the organizations that help this community thrive. We invite you to learn more about the educational, civic, social and philanthropic endeavors we support with our time, energy and expertise. If you'd like to be involved, please feel free to contact us to learn more about upcoming events.
---
Support Jay in The Ride to Conquer Cancer
Jay's decision to ride is to show our support for all of our clients, friends, and family members who have been affected either directly or indirectly by cancer.
The Ride to Conquer Cancer is a unique, two-day, cycling event that takes place at the end of August each year. During this bold cycling journey, Jay will ride for two days and cover 200+ km through picturesque scenery all the way from Vancouver to Hope.
The money we raise for The Ride to Conquer Cancer will benefit BC Cancer Foundation and support leading clinicians, scientists, and researchers whose search for new discoveries and improved patient outcomes will have a real impact in our communities throughout the province, across Canada, and around the world. In other words, your support will accelerate the conquest of cancer.
Click on picture for more info


---
Annual Christmas in November Fundraising Event
Every year the Raymond James Ltd. Kelowna corporate branch holds a festive "Christmas in November" event to raise money for local charities. Good friends, good fun, and good causes – what a great way to kick off the festive season.
Since its inaugural year in 2014, our Christmas in November event has raised nearly $270,000 for local charities; providing financial assistance for programs/services that support the culture and people in our community.
We are thrilled to be a part of this event every year and are excited to watch it grow.

---
Appetite for Art Fundraiser 2019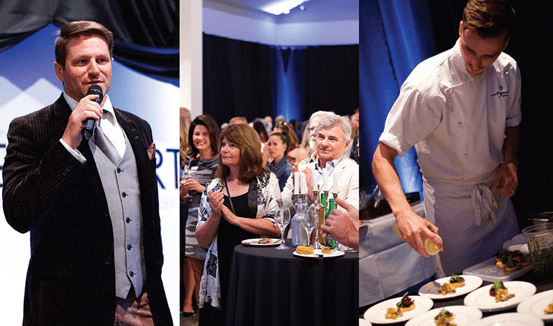 Saturday, May 11, 2019
For one night only, Appetite for Art takes over the entire Kelowna Art Gallery and invites guests to an extraordinary celebration of visual art and fresh local cuisine – and the proceeds all go towards supporting educational programs at the Gallery.
Featuring food & beverages by:
Waterfront Wines • Joy Road Catering • Mission Hill Family Estate • Sandrine French Pastry and Chocolate • Okanagan Spirits Craft Distillery • Blue Mountain Vineyard and Cellars • BNA Brewing Co. • Basil & Mint • Central Kitchen + Bar
For tickets please visit: https://kelownaartgallery.com/appetite-for-art-fundraiser-2019/
---
Okanagan Dream Rally
With the Okanagan Dream Rally, we hope to provide special children and their families with an incredibly fun-filled experience of being in the hot seat of a dream car for a day. In addition, providing opportunities for our community, public figures, and businesses to support a good cause and make a difference locally in their community.
The 2017 Shaw Okanagan Dream Rally Presented by Auction world will support Autism Okanagan, KidSport, and the Central Okanagan Hospice Association with all funds raised.
Participating children of the Okanagan Dream Rally will have their very own rally car and driver for a day. The community and public observers will partake in the street excitement while the hottest dream cars of the Valley start their engines in Kelowna and circuit through the beautiful parts of the valley including Peachland and Penticton for an experience of a lifetime.
As the Okanagan's only rally of exotic cars and luxury vehicles, the Okanagan Dream Rally will touch many lives and hearts by giving the special attention and care to families in need on this fun-filled day touring the Okanagan in some of the most beautiful cars of the valley.
http://okanagandreamrally.com/
---
Partners for Life program with the Canadian Blood Services
As members of this program, Raymond James's Kelowna corporate branch has committed to making regular donations of blood as a team. Approximately every minute of every day, someone in Canada needs blood. We are proud to be a member of this program and look forward to doing our part for the much needed blood supply in Canada.
Click on picture for more info


---
"I'm very proud of the people of Raymond James and how we give back to our communities. And through the services of the Raymond James Canada Foundation we can also help our clients to turn their charitable giving into strategic philanthropy. We are very excited to be able to help Canadians in this way,"
says Paul Allison, Chairman and CEO, Raymond James Ltd.
Raymond James Canada Foundation
---
The real pleasure of one's life is the devotion to a great objective of one's consideration.